Welcome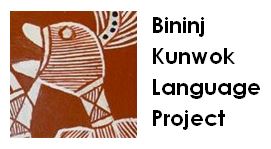 Welcome to the Bininj Kunwok language and culture course – Yekke 2021.
It is a special privilege to be able to learn one of the languages of Australia's first peoples. We hope that you recognise this opportunity and dedicate yourself to learning what it has to teach you.
We acknowledge the traditional custodians across the lands on which we live and work, and we pay our respects to Elders both past and present.
The Bininj (people) Kunwok (language) is spoken by around 2000 people in West Arnhem Land in Australia's Northern Territory. The specific language in focus here is Kunwinjku, with additional notes included on Kundjeyhmi, which is one of the traditional languages of Kakadu National Park.
This course has been developed under the authority of the Bininj Kunwok Regional Language Centre, and we acknowledge their contributions, their authority and their connection to the country, language and culture which is presented in this course.
Yekke is the Bininj name for the early dry season, usually around May-June, when the humidity drops and the water lilies come out and seasonal burning begins.
A note on terminology:
This course is divided into 6 units. Each unit is made up of several lessons, such as grammar, reading, pronunciation, etc. Each unit covers one week of work. You don't have to do all the lessons in one sitting, but you should do them in order, and make sure you cover all the lessons for each unit. You may need to revisit some lessons more than once.
Each unit has a lesson called Activity, which is your homework for that unit. If you are planning to continue to the semester unit, or to earn a digital credential, you are strongly encouraged to submit your work for feedback.
ABOUT
  'About' boxes are used for introducing new concepts not yet seen within the course.
TIP
'Tip' boxes will be found throughout the course and will provide you with hints and tips, that will help you complete the course and/or aid you in developing a deeper understanding of the course materials
NOTE
  'Note' boxes contain cautions, or advice about the content you are learning that are important to keep in mind as you go through the course.
This course began as a research project in 2016 with funding from the federal government's Office of Learning and Teaching (now PELTHE). A team from Charles Darwin University worked with the Bininj Kunwok Language Project Reference Group to develop a 4-unit online course as a proof of concept for the idea of a Digital Language Shell to enable Indigenous authorities to teach their language and culture on their own terms to university students. The project was proposed in response to the limited opportunities for university students to learn Indigenous languages in Australia.
The success of the pilot project (which you can read about here or read the full report) led to the expansion of the course to this full tertiary semester unit.
The short course option is offered sporadically for professionals working in the area, and others interested in learning an Indigenous Australian language.
ACKNOWLEDGEMENTS
Bininj Kunwok Language Project Reference Group:
Rev Lois Nadjamerrek
Jill Nganjmirra
Seraine Namundja
Donna Nadjamerrek
Andrew Manakgu
Julie Narndal
Roseanne Nawirridj
Frank Nadjalaburnburn
Cheryl Garnarradj
Dell Hunter
Project manager:
Research Assistant:
Linguist:
Field officer:
Others who provided assistance at various stages:
Professor Michael Christie (CDU)
Professor Jane Simpson (ANU)
Dr Susy Macqueen (ANU)
Professor Gillian Wigglesworth (UniMelb)
Professor Steven Bird (CDU)
Dr Maïa Ponsonnet (UWA)
Dr Steve Etherington for permission to use material from his Kunwinjku Kunwok textbook
Barbara White (CDU)
Greg Williams (CDU)
Pat Josse (CDU)
Hina Siddiqui
Michael Lawrence-Taylor
Alexandra Marley
Danny Kennedy
Corey Spink
All the volunteer learners who participated in the pilot project in 2016
All the ANU Language Teaching 2018 students who contributed their feedback
All students from CDU and ANU who participated in the first delivery of the full semester unit in 2019