The alveolar ridge is a hard ridge found just behind the upper teeth.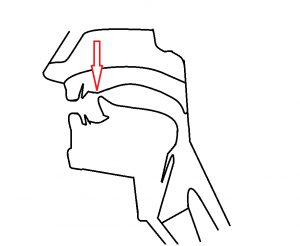 Many consonant sounds are made with the tongue making contact with the alveolar ridge, such as [d, n, t, l].
To feel your alveolar ridge, put your tongue on your top teeth then pull it back along until it touches the roof of your mouth (palate). You should feel a ridge between your teeth and the palate.
Retroflex
sounds are made at the alveolar ridge also, but use the underside of the tongue to make contact.
http://bininj-kunwok.cdu.edu.au/wp-content/uploads/2022/07/cdu-logo-padding-300x108.png
0
0
Cathy Bow
http://bininj-kunwok.cdu.edu.au/wp-content/uploads/2022/07/cdu-logo-padding-300x108.png
Cathy Bow
2020-06-05 07:21:35
2020-06-26 10:24:36
alveolar ridge